My Panasonic Lumix FZ1000 II (FZ1000M2)
As my Canon PowerShot SX60HS is about ready to retire, one of the guys I do product photography for offered to help pay for my next camera. After a lot of research, I set my sites on the Panasonic Lumix FZ1000 II.
Panasonic's FZ1000 had great reviews! The FZ1000M2 is said to have the same great image quality plus more features, such as the touch-screen LCD.
Initial Impressions
Wow, this camera is BIG! As expected, this camera with its 1-inch sensor is significantly bigger than my old Canon Powershots and Lumix DMC-ZS60, which had 1/2.3″ sensors. The included neckstrap is wide, which helps with the weight.
What's that noise? The first thing I noticed when turning on my camera was a fan-like noise. Others describe it as a grinding or motor noise. A quick Google search told me that this is the OIS (optical image stablization) and the sound is normal. … The noise is very noticeable in a quiet room. But I don't hear it at all when I am outside. Update: After a couple of weeks I didn't even notice the noise anymore.
USB charging? Really? I am not a fan. I prefer to remove the battery and put my camera safely in its bag while charging. I do like that USB is an option. But for what this camera costs, I wish Panasonic would have included a separate battery charger. Update: I purchased the Powerextra 2-pack batteries and charger from Amazon.
So Many Controls for So Many Features. I am a little overwhelmed by all these buttons and wheels. But I am also grateful that Panasonic made so many features easy to find! … Speaking of features, as I write this article I just realized that my new camera has a built-in ability to do Stop Motion Animation!
Image Quality – Where the FZ1000 is supposed to shine!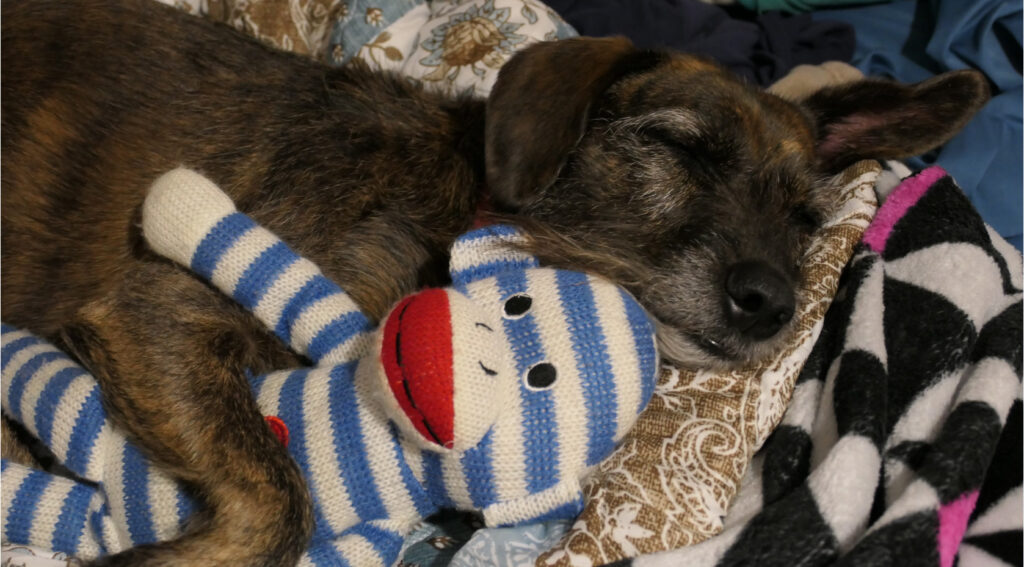 (Dog napping with sock monkey – indoors, no flash, 1 40-watt lightbulb in the ceiling fan overhead for lighting. Original image available upon request if you want to see full resolution.)
Better Low light performance and more accurate colors!
For years I have heard that larger sensors equal better low-light performance. My first photos were of our dog sitting in a room with poor lighting. The images were far from perfect, but clearly a step in the right direction when compared to my older cameras!
Colors, both inside the house and outside in the daylight, were probably the most accurate I have ever gotten from a camera! There is still room for improvement, but I'm impressed!
Taking It Outside
Next on the list: Taking outside pictures of my dog, the neighborhood cat who has decided he lives with us, and our new blueberry bushes.
Depth of field differences. Over the past year, I have gotten a lot better at controlling the depth of field in my photos. (making the right parts of the picture be in focus, letting other stuff blur) It turns out that sensor size plays a significant role in controlling the depth of field.
I need to learn more about controlling the depth of field both in general and for my specific camera. I also took the time to learn about Photo Stacking for even more control of what is in focus when I take pictures in "Post Focus" mode.
More Professional Photography
I feel like this camera has officially stepped me up into a new league of photography. I find myself wanting to spend a little more time perfecting the good pictures in Lightroom and Photoshop, so I can really show off my abilities.
Human Portraits
It is my daughter's senior year of highschool. I got some very nice pictures of her and her friends over the weekend. Most seemed a little flat and needed at least some editing in Lightroom. I am suspicious that the cloudy weather was partly to blame. Adding a little warmth to the colors did wonders.
Product Photography
I have only taken a few product photos. Once again, I feel like these need to be improved in Photoshop. But looking at the fine details, I definitely see an improvement in overall image quality.