Stepping into AI: #2 Pretty Pictures with Pebblely
I have been using Pebblely for a few months now. Here is my review:
It started with a search for product photography props. I found some very nice sets for $800+. A price that was kind of worth it … but I was hesitant to spend so much on something that I can't touch and test in person first.
Then, an ad for Pebblely caught my attention. With an option to generate 40 free photos per month, the only thing to lose was a little bit of my time. So I gave it a try!
What does Pebblely do?
Pebblely is a fun way to generate small product images for your social media, website, or print! I look forward to using it to create seasonal images to advertise popular products.
Free Pebblely vs Paid Pebblely Plan
The free version is a great way to check out the power of Pebblely
40 free images per month (generated 4 at a time)
Excellent for displaying in smaller formats, such as Instagram!
With the paid plan, you can download even more
$19 per month lets you generate 1,000 images!
Download images up to 2048×2048 pixels
Excellent for displaying in small print, Instagram, or on your website!
What I love about Pebblely
Good communication from support. You can tell they care about providing a good quality product for the price!
I have fun writing prompts and seeing what Pebblely will come up with!
1000 images! This is AI. Results will not be perfect. But with 1,000 images per month on the paid plan, you are sure to come up with something good!
Pebblely's ability to generate reflections and shadows continues to impress me!
The website speed is decent. Some of the other sites I have tried get bogged down when I type too many prompts in a row.
Are there any drawbacks?
It is AI. There are going to be some imperfections. For the price, I think Pebblely is worth it. Just keep in mind that their focus is on generating Instagram-worthy images. Not large posters to display at your next trade show.
Prompt writing is a skill I am new at. I am sure it will get better in time. But for now, here are the things I am struggling with:
Large Product Images: I get better results with small to medium size product images, like a bottle of shampoo. Large objects, like a 3-ft tall whole-house water system, have looked out of place most of the times I tried to generate new scenes for them. Then again, I don't imagine many people are using pebblely to generate a picture of their large water system. Maybe I should try again with something like placing a piece of furniture in the corner in a well lit room or a four-wheeler in a field.
What's with the fruit? Sliced fruit generation hasn't looked too realistic, either. I assume this will only improve with time.
I would love to place specific items. Pebblely has the option to erase areas of the generated image that you are not happy with and have them re-generated. It would be awesome if they added the ability to tell it what you want generated there!
Suggested plan: If you have something specific in mind, I would suggest giving the 40 images per month plan a try before you jump into the paid plan.
First Images – Initial Impression of Pebblely
Those first few images were an interesting site. I clicked "Surprise Me," and that's exactly what Pebblely did! The product was a bottle of sweetener. I thought it might look nice placed on a coffee table or the countertop of a well-lit kitchen. But Pebblely placed it on some paint splotches, in front of a toy tree, in some snow, and on a pile of rocks.
I do think some of the "surprise me" images are nice from an art perspective, and I would like to use them once I find an appropriate place. However, my client went with the images that were generated with prompts. Like my product is "sitting on a counter in a well-lit kitchen"
Since I have not asked permission to publish any of the images generated for clients, I will share a couple of my personal pictures.
Flowers – Background Not Removed (I should have removed the background)
For this set of images, I let Pebblely detect and remove the image background. It did a decent job. This is fine for somebody who wants a quick way to generate images for their social media or website. But I notice a lot of imperfections when zooming in. If you have the skills, I would recommend removing the background yourself. Or at least trying to take the picture on a background that is easier to detect product vs background.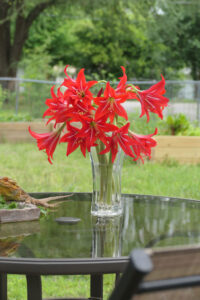 Pepper Sauce – Transparent Background
For this second set of images, I took a picture of pepper sauce in a bright photo box with a white background. I used Photoshop to remove the background before uploading it to Pebblely and generating images.
My biggest complaint is that I did not take the time to brighten the image a little more and/or make the empty space more transparent to blend in with the background. I think Pebblely did a decent job, but I would like to see that cornbread a bit darker and those oranges a bit more realistic.
I imagine a fresh jar of pepper sauce would look good sitting on a table, next to a bowl of greens and a pan of cornbread, or as a Christmas gift. So, these were some of my prompt inspirations.