My Kodak EasyShare Max z990
Last Update: April 13, 2011
Multi-Page Article
Page 1 – Initial Impression , HDR, Photo Booth, Panorama, Low Light
Page 2 – Film effects , focus , scenes, borders, color tints
Page 3 – Video, SD cards, Batteries, other specs
51 long days after pre-ordering, my Kodak EasyShare Max has finally arrived! … With its $329.95 price tag, I thought long and hard before ordering this camera. For that price I could have gotten a low-end or used DSLR, or chosen a camera that has already been out for a while and received good reviews. But in the end, excitement over the advances in HDR, panoramic, pictures taken in low light, the 1080p video resolution, and 30x zoom won me over! … So, was it worth it?
Note: This page is a work-in-progress. I mainly focus on nature photography and the weather (and wildlife) weren't very cooperative the week I got my camera. I will update it with more pictures as I take them. … Feel free to make requests if there is a particular feature you want to see!


Initial Impressions
Open With Caution!
Kodak shipped my camera in a smallish box with one of those nice air pillows to protect it from the sometimes too rough UPS guys. The packing that took place inside the box, however, was not as nice.
I carefully cut the tape, removed the user guide, and tried to slide out the inner cardboard insert that contained the camera and accessories. At first, the cardboard did not want to come out. Then it came out super easy, giving me a scare when half the contents of my box dumped on the floor! Luckily they were just the batteries, charger, lenscap, etc… At first I thought I had already broken my new camera before it even left the box!
The camera was better secured. But I still suggest you be careful when opening the box so that you do not break your charger.
Heavy camera
I knew that the Z990 would be heavier than my previous cameras. What I did not realize was how much of a difference that extra half a pound would make. Once I inserted the batteries and SD card and attached the neck strap, my camera weighed a total of 1.40 pounds. (1 pound 6.4 ounces) … With my arthritis that is a little worrisome. But I am glad to report that the neck strap is nice and wide for extra comfort while I carry it. (my last neck strap was so thin that it felt like it was cutting into me after a few minutes)
The weight advertised in the specs is 1.3 pounds. I am not sure why I got an extra tenth of a pound when I weighed it myself. – Perhaps because I added the lense cap and neck strap?
Sturdy
In addition to being heavy, this camera has a "well built" feeling to it. Particularly, I am glad to see that the lense cap attaches well. The one on my previous camera fell off so easy – It has a few scratches even though I was always so careful.
The bad thing about the lense cover being securely fastened is that I have to undo my bad habit of letting the camera's lense push it off.
Red Light!
Once again, Kodak has created a camera with an uncomfortably bright light that comes on during focus. Happily, this one does not make me squint 🙂 But it is enough to make me see spots for a while after the photo session has ended. (if I was lined up just right for it to shine brightly into my eyes)
Pushing my buttons
One of the first things I noticed while setting the time and date on this camera is how easily the buttons push! They are a bit awkwardly sized and positioned – especially the right, left, up, and down arrows. I may be a bit fumble fingered for a while. But I think this layout will grow on me.
I will say that with all the features it has packed, it does appear that there will be a bit more scrolling and clicking around the menus than I am use to to find the "perfect" settings.
Complaints
I did have a few complaints about this camera. Some of them were improved by formatting the internal memory and SD card and by resetting the camera:
It was originally slow to capture pictures. (trying to find that "perfect" focus) … After resetting the camera, it it still slow from time to time. But usually takes about 1.5 seconds.
Manual focus is slow. … Then again, it was too fast on my previous camera. I would like to see the ability to quickly go to the rough area where you want to manual focus then slowly step into the range you want.
There were a few small smudges on the lense when I opened my new camera. These did not noticeably affect picture quality. But I was still surprised to see a brand new camera in less than perfectly clean condition.
Color quality not as good as what I got from my z1012. – This camera came nowhere near capturing the beautiful vibrance of the roses at our local botanical garden.
Whiny automatic panorama mode – It took several "decent" panoramic pictures. But then it started complaining about sweeping the wrong direction. I did no such thing! … It worked again after a 20 minute rest.
Picture count restarted the first few times I emptied my SD card! Kodak's response:
"Regarding your concern, when a file is deleted on the camera, it fills up the missing file name."
— I prefer that each picture be given a unique name. Not only does this lower the chances of me accidentally overwriting a pic I wanted to save to the same folder – It also helps me count how many pics I get out of a camera before it wears out.
— I am happy to report that after I took a few hundred pictures, my camera kicked in with proper file naming. Maybe they have some sort of test-environment setting where if the camera's picture count was less than 100, it starts over when given a blank SD card?
AND, this camera just doesn't seem very intuitive in general. I am finding myself spending a lot more time in the online extended user guide (http://resources.kodak.com/support/shtml/en/manuals/urg01212/urg01212toc.shtml) than I usually would for a new camera.
Built-in HDR Image capability
True HDR Images are created by taking multiple shots of the same scene, with different exposures. Some shots will better capture the bright areas, while other shots collect more detail from the shadows. The HDR process then combines the best of both pictures, creating a beautiful balance of light, detail, and color.
This camera has an HDR setting which does exactly that. I was hoping that the camera would save all of the images per HDR capture (the originals plus the final product) , but it turns out that it only saves the final one. … I took the below pictures on my way to the lake.
Notes about HDR images:
This camera was originally advertised to do a cool affect where if you take an HDR picture and one of the subjects is moving (their example was somebody riding a dirtbike down hill), the result would be a cool picture where you saw the moving subject 3 times, in the 3 different positions they were when you took the picture. … I tried several times to get a picture like this. Instead I ended up with a few ghostly streaks that had been mostly edited out. Either Kodak had to back out of this feature, or I am trying to do it wrong.
If your hand or too much of the subject moves while trying to take an HDR picture you will get the message "  Image capture failed, hold camera steady for best results. " … Because of this I have been unable to use HDR for landscape pictures on windy days and I have been unable to use it for super-macro pictures, even though I used a tripod.
Panoramic and Photobooth Style Pictures
You can access the automatic panorama and photobooth tools by turning your dial to "Creative Modes" (the one that looks like a paintbrush) and using your arrows to scroll to which one you want. Click OK to select it.
There is no way to change "creative modes" or SCNs without giving the dial another turn. (Example: say I just want to go from photobooth to panorama or go from flower to landscape) .. When I asked Kodak if I was just overlooking something, I got this response "Obviously you have to turn the dial to change scenes".
Photo booth fun, wherever you go!
I can already see that my daughter and her friends are going to have a blast with the photo booth setting of this camera! Come to think of it, us grownups are enjoying it too 🙂
Photobooth takes a series of four 2016×1512 images. You have a few seconds between each picture to change your pose and it does beep and flash the red light to let you know when the next picture is coming. Once all four pictures have been taken, they are stacked photo booth style.
Automatic Panorama – a little buggy
Panoramic pictures are extra wide or extra tall. They are often created by taking a series of side by side shots and "stitching" them together.
The Kodak Max z990 features an "automatic panorama" setting where you can hold down the shutter button as you move the camera from side to side.
Set the sweep direction by clicking OK on the small arrow icon. Use your left and right arrows to select the image that represents the direction you want to "sweep" (left, right, up, or down). Click OK when you have highlighted the one you want.
Automatic panorama image size and quality are too low for poster prints. But it still fall under the category of "neat to have"!
The first bug came when my daughter and I were taking several auto pan shots. – It started accusing us of sweeping the wrong direction! We were using a tripod, so I know we weren't going up or down too much when we were supposed to go from left to right. We tried changing our direction and speed. Nothing worked until we turned off the camera for a 20 minute break. Now automatic panorama appears to be working fine!
The other bug came when I realized that Automatic Panorama doesn't always capture the whole thing you are telling it to. … Maybe my hand is getting shaky at the end and I should just consider myself lucky to get what I get. But it often kicks off well before the 180 degrees it is supposed to be capable of. (Still appears to be capturing the image until you look at the final result.)
There is also a regular panoramic mode, where you take 1 picture at a time and line them up for the next, located under SCN on the dial.

BSI CMOS = better pictures in low light
Here is a picture of our parakeets, Justin and Feathers. Yes, the image quality is on the low side in comparison to if I had used the flash. But keep in mind that the picture was taken indoors, with the birds sitting under a sheet (to give them a dark area in their cage.) I think it turned out pretty well all things considered! .. Click on the image to see it full-size. After adding my watermark I saved the JPG with 100% quality, which is supposed to be "lossless" in the areas that I did not edit.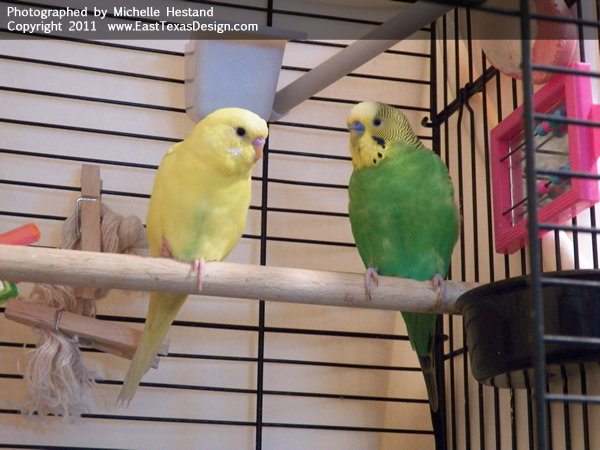 It has also been requested that I show images with really low light. … Since I don't have time to go camping or throw a birthday party for myself, I compromised by sending my daughter's barbies camping. Their camp fire is actually a small tea light.
| | |
| --- | --- |
| This picture was taken using the camera's Smart capture setting, no flash. | This picture was taken using the camera's SCN – Candlelight setting. … Much more impressive! |
Multi-Page Article
Page 1 – Initial Impression , HDR, Photo Booth, Panorama, Low Light
Page 2 – Film effects , focus , scenes, borders, color tints
Page 3 – Video, SD cards, Batteries, other specs