My Panasonic Lumix DMC-ZS60
My Canon PowerShot SX50HS has been in for repairs for over a month now. In the meantime, I have tried multiple new cameras. My favorite thus far is the Panasonic Lumix DMC-ZS60!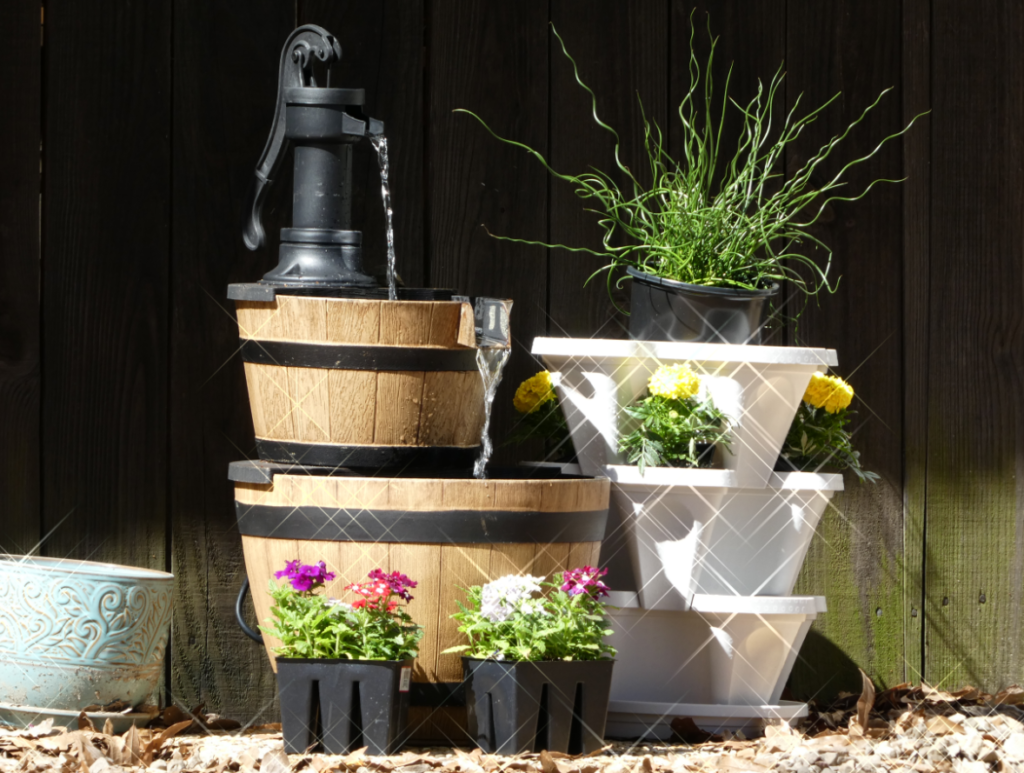 Initial Review
This camera had 3 advantages over the other new cameras I was interested in. It is small in size, it is within my budget, and it is and available NOW! (The other cameras I want will come out in March and April or cost over twice as much.)
We were just getting started with landscaping at my new house when the UPS truck arrived. I tossed down my spade and eagerly sat on our front porch, opening the neat packaging. First thing I noticed … YES! My camera did ship with some battery power! I would be able to start using it right away.
Next thing I noticed was how small and awkward this camera feels to my arthritic hands. It is lightweight (compared to a DSLR) but it does not feel flimsy. But after years of holding bridge-style camera use my fingers fumbled to hit the closely spaced buttons. It took about 6 tries just to set the time and date.
After taking about 30 minutes and 65 pictures I saw that my battery was getting low. Popped out the battery and searched through packing material to find an external charger. There wasn't one. This camera comes with a micro USB cable and an adapter to plug that into an outlet. Just plug the camera into your laptop or the wall and let it charge like you would a tablet or a smartphone. Unfortunately, when I turned my camera on while connected, it said I have to turn it back off to charge my device. *sigh*
What about the quality?
Of course, the most important thing about a camera is the image quality. Like most cameras, this one has its strengths and weaknesses. I will say though, for the small size and how much zoom it has (30x) it does a pretty decent job. Here is how my Panasonic Lumix DMC ZS60 performed in the departments that are important to me:
Fun Features
Low on the scale of importance, but high on the list of things I look forward to. Fun, new features are the thing I check out first on any new camera!
Focus Point – Very fun, first feature I noticed by accident. I didn't even realize this was a touch-screen camera until I tapped and saw a grid highlighting where the camera would focus.
Touch Screen – I always thought a touch screen on a camera sounded silly. But I have to say, I like this! Though it is not as sensitive as the screen on my iPhone 6s.
Smart Phone Remote – I have often wanted an external remote to avoid human error related shaking. So wonderful that cameras are starting to come with the ability to control them via your smart phone, a device that many customers already have! The app is not as intuitive as I had hoped, but I look forward to hiding my camera in various locations and getting pictures of critters eating at the bird feeder and sneaking into my garden.
Outdoor Stills
I love the extra pop of color that comes with taking pictures in Expressive mode.
Wildlife Photography
My pictures have not been as clear as I hoped. At 100% there is a slight affect that makes me think of looking through a glass shower door. Of course, this is barely noticeable when viewing at "normal" sizes.
Outerspace
TBD
Playing Pets & Kids
One feature I was looking forward to was "Freeze Pets". When used outdoors I was not impressed.
Indoor Pictures / Low-light Performance
Product Photography
Too much contrast. Will have to try RAW.
Video
4k video– I was not able to give the 4k video a fair shot because I do not have the suggested memory card. My Class 4, 32gb SDHC simply can't keep up.
Sound– The built in microphone is decent. I filmed my dog trying to catch a honey bee on the other side of a window on a calm (no wind) day. There was a little bit of an airy "background noise". But you more noticeable was the clear sound of birds singing in the trees and the occasional thud of my sweet puppy's nose hitting glass.
RAW + JPEG
It has occured to me that some of the "shower door" look I referred to may be caused by the JPG compression. Even with compression, on "Fine" I am getting pictures in the 8mb – 10mb size range. I will test RAW soon.